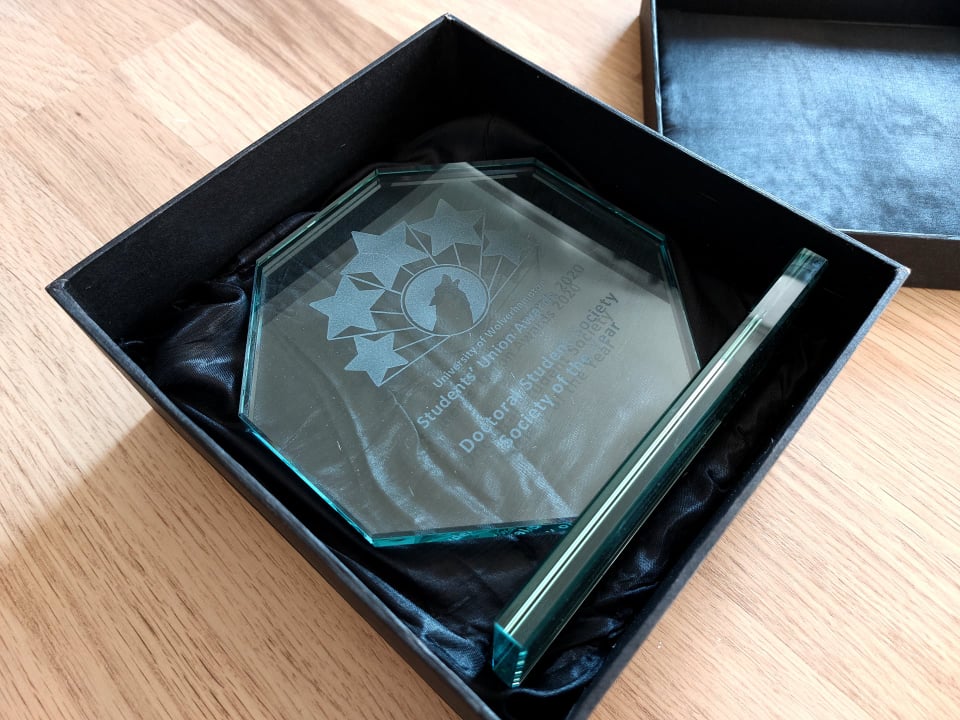 About the Doctoral Students Society
The Doctoral Students Society (DSS) is a post graduate researcher society at the University of Wolverhampton. Established in December 2019 by three dedicated PGRs (committee list below), the society aims to bring doctoral students together for social events, networking, and sharing of ideas.
The DSS welcomes anyone from full-time to part-time, international, and from any discipline. The DSS also offer online social spaces for those who cannot attend our social outings. However, during Covid-19, all social events were moved to strictly online platforms.
The Doctoral Students Society brings doctoral students together, creating a strong community on campus. The DSS currently have 94 members on their mailing list.
Building a Successful Society
The success of the DSS comes down to filling the needs of PGRs. There was a lack of PGR communities on campus and the DSS fills the gap through academic and social events, including study groups and hang out sessions, to get to know like-minds and develop friendships. However, networking and marketing the society also contributed to its growth.
Here is our advice on how to make a successful society:
Attending Freshers Fair (and ReFreshers)- setting up a booth, a virtual booth, providing an introduction video about the society, and having a Q+A. Even though this event might be catered to undergraduates, post-grads who are trying to get to know their university or looking for connection might attend.
Working with Students Union – promoting events on the Students Union webpage and having a landing page on the SU website. Example:
Working with the Doctoral College – adding events to the newsletters & PGR almanac (timetable of events), as well as word of mouth promotion of the society.
Attend inductions – formally introducing the DSS during inductions, this is a great place to get new PGRs interested in the society.
Offering a variety of events (virtual and IRL) – trial and error your events to figure out what students are interested in and what times they are available. We discovered our study groups (10am) and group hang outs (8pm) are the most attended. You can try other events such as: game night, movie night, group outings, etc.
Maintaining a mailing list – we aim to send a DSS newsletter once a month and a separate email for upcoming events. Our newsletters include changes to the society, open forum for Q+A, introductions to new PGRs, and other news.
Social media – Twitter is a hot spot for academia. We currently use Twitter and Facebook to help promote our society and share information we also send out in our newsletter: Follow us on Twitter and Facebook to receive regular updates.
Providing a safe place for comments/ concerns about university studies.
Making sure all paperwork is in order – maintain your society every year by renewing your society with your SU, also remember to file the risk assessments for meetings and frequently check SU communications.
Create a separate email account that is dedicated to the society rather than using your personal email/ student email. We used outlook.com to help us stay organized with communications.
Create logo and hashtag that help establish online presence. Our logo is:
Winning SU Society of the Year: 2020 and 2021
The Students Union awards at the University of Wolverhampton ran for the past 11 years. This is an opportunity for students to show recognition and celebrate the achievements of University academic and non-academic staff, SU Staff and students who have helped make your life at University better.
The DSS had the honor of being nominated for the 2020 and 2021 awards, as well as winning the awards, two years in a row!
To learn more about previous winners please visit: https://www.wolvesunion.org/awards/winners/
Meet the committee:
Chair
Secretary
Treasurer